Meghan Hukowicz Zoll '00 Endowed Scholarship
On Sunday, April 17, 2016, the Meghan Hukowicz Zoll '00 Endowed Scholarship was established at Elms College in Chicopee, MA. This scholarship was announced during the college's 2016 Donor Scholar Reception where Linda Kenny (President) and Dr. Betty Hukowicz (Meghan's Mom and Board Member) of Meghan's Light were recognized by college President, Sr. Mary Reap.
The Meghan Hukowicz Zoll Endowed Scholarship was established to honor Meghan Hukowicz Zoll, a 2000 graduate of Elms College. Meghan lovingly inspired family and friends with her courage, strength, and determination in her day-to-day battle against Cystic Fibrosis for 39 years. Devastated by her loss, friends and family gathered a few months after her passing and created Meghan's Light, Inc. whose mission is to support finding a cure for Cystic Fibrosis and to inspire hope and courage in patients, families and communities impacted by the disease.
Throughout her life, Meghan had a deep passion for learning and for physical fitness. Meghan graduated from The MacDuffie School in Springfield and Elms College with a degree in Business Management and Psychology. In high school she was Captain of the varsity field hockey team, played on the varsity softball and basketball teams, and then held the position of goalie on the Hartwick and Elms field hockey teams. This passion on the field manifested itself in Meghan's pursuing the Coaching Minor at Elms College and later coaching youth community softball in the Boston area. To honor Meghan's love of learning and passion for physical fitness, the Meghan's Light Board of Directors created this scholarship to inspire the same kind of love and passion in the hearts and souls of coaches in the classroom and on the field. In her own words, Meghan felt, "fitness was a tool to help people thrive".
The Meghan Hukowicz Zoll '00 Endowed Scholarship is a need based scholarship with first preference given to undergraduate students with a minor in Coaching. If no undergraduate students meet the Coaching minor eligibility, then second preference shall be given to undergraduate students majoring in Sports Management.
Hunter Edwards, a senior at the College of Our Lady of the Elms, is very appreciative of the scholarship as it will help him continue his studies towards a bachelor's degree in sports management and business. Hunter commented that Elms College helped him grow in all aspects of his life, something that will be useful as he pursues his goal of owning his own business.
Mickey Howe is a senior at the College of Our Lady of the Elms working towards his Bachelor's degree in Sports Management and Marketing. Mickey was extremely grateful for the scholarship, saying that it will help reduce his financial burden and provide assistance as he continues with his studies towards and MBA. He mentions that the opportunities he was given at the Elms, being able to follow his dreams and pursue his career goals, were more than he could have hoped for. Mickey hopes to one day work in upper management with a professional sports team.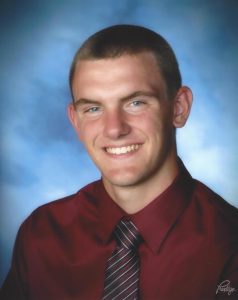 2017-2018, 2018-2019, 2019-2020
Thomas Slane, a 21 year-old triplet from Tolland, Connecticut with a dual major in Business Management and Accounting was scholarship's first recipient in 2017, and repeated in 2018 and 2019. Thomas has been on the Dean's List every semester. He is the third/first baseman on the baseball team and serves as the baseball representative to the Student Athletics Advisory Committee. Thomas is involved in the Chess Club, Campus Ministry and is a resident advisor. In his free time, he enjoys playing Elms Intramural sports like ultimate Frisbee, working out, and hanging out with his friends. Thomas said that with the support of the Meghan Hukowicz Zoll '00 Endowed Scholarship and his family, he is one step closer to achieving his goal.
Nikolas Kobe Brown, a 21-year old from Wellington, Florida, is one of seven siblings. He is a dual major in sports and business management and is 2018 scholarship recipient. Nikolas has been the captain of the basketball team for the last two years and is also a student representative on the Elms College Board of Trustees. Nikolas will also be a residential advisor on campus for the 2019-2020 academic year. In his free time, he enjoys working out, playing basketball, hanging out with his friends and calling his mother. Nikolas said with the support of the Meghan Hukowicz Zoll '00 Endowed Scholarship along with his family, he has been able to get closer to his dream.